Living History Cass County
Living History Cass County & COVID-19
One day people will look back and wonder, "What life was like during the global COVID-19 pandemic?"
Cass County hopes to have an answer. Cass County Libraries, the Cass County Genealogical Society, and Healthy Cass County are asking for your help in documenting experiences during this time.
"Living History: Cass County and COVID-19" aims to capture personal accounts from people in Cass County about what they are experiencing, thinking, and feeling during this global pandemic. "We are excited to see what people will share about this time," commented Atlantic Librarian Michelle Andersen. "We want to get people of all ages participating in this project," added Massena Librarian Jennifer Erickson.
Cass County residents are asked to share memories via written accounts, photos, or drawings.
Entries can be mailed, dropped off, or emailed to any Cass County library, or to Cass County Wellness Coordinator Brigham Hoegh at bhoegh@iastate.edu or 805 W. 10th Street, Atlantic IA 50022.
Entries will be shared on a blog page managed by the Atlantic Area Chamber of Commerce, and through local news stations. The project team also hopes to print memory books to be kept in each Cass County library.
Not sure what to include in your entry? Here are a few prompts to get you thinking:
·        Describe your experience living during the COVID-19 pandemic: what changes have you experienced?
·        What are you missing?
·        What seems most important to you now?
·        What is something that brings you joy?
·        Is there something you thought you would miss but now can live without?
·        How are you coping?
·        What fears do you have (if any)?
·        How do you feel about the situation?
·        What hopes do you have for the future?
·        How is the COVID-19 pandemic similar or different to events you've experienced in the past?
·        What has COVID-19 made you wonder about?
·        What else should others to remember about this time?
The project committee will be accepting entries through the end of the year 2020.
Submission by Brigham Hoegh
Some thoughts on the pandemic (five months in).
When the pandemic first hit and schools were shutdown, I felt relief. A child in my home had been skipping class, and frankly I felt lucky that we had a chance to hunker down at home. It felt like a snow day.
Almost all my close friends and family have struggled to adjust. It goes in waves. On the surface we've done very well—adjusting to ordering groceries online, not going to restaurants. But a significant reduction of in-person interaction combined with the fear of contracting or transmitting a potentially life-threatening virus has been hard. Anger. I've seen lots of anger. Maybe that's denial. The whole thing is scary. Sometimes it's easier to be angry than scared.
Over the course of the last five months I've really enjoyed being less busy. I love the time I've had at home with my five pets. Sometimes I feel guilty feeling good during this time that I know has been so scary and hard for other.
Over just the last month I'm beginning to notice people finding ways to not only get through this but to find better ways to do things than we had in the past. People are starting to work through the pandemic's constraints to find new opportunities and better solutions. For example, people are talking about the importance of being outside and looking at ways we could do a lot more things outside. My own family is spending a lot more time outdoors. I love being outdoors and find it good for my mental health. Some people are talking about getting more students and classrooms outdoors to keep everyone safer. How cool! I'm excited to see what new things will be developed during this time that will be better than they were before COVID-19.
Taking care of one another and looking out for each other has become even more important to me during this time. The way Cass County communities have come together to find solutions to food needs in particular has been really encouraging. So many people have stepped up to donate and volunteer. The world-wide re-awakening to racism after the death of George Floyd has led me to read and learn a lot more about our country's past as well as current forms of racism, and to see things I've done wrong and want to do better. I've called the governor and written to leaders, and I've found this work to be so meaningful. I hope I continue learning about and working for more equal treatment for all long after this pandemic has stopped causing me to live with that "life is short" urgency that can only be sustained for brief periods.
                                                                                                            -Brigham Hoegh
Submission by Michelle Andersen
I am writing this on Day 5 of my quarantine. I am writing to tell you to not make exceptions or excuses for going against recommended guidelines to slow the spread of COVID-19—do not go to the party and just stay a little while; do not go shopping "just because"; do not wear a mask only to pull it away from your face every time you talk.
My son wasn't feeling well last Wednesday. He sat with us at lunch but didn't eat. I didn't see him anymore that day. By Thursday he was running a fever and went to get a COVID test. I thought he was being extremely cautious…until later that night when he told me two of his friends had just tested positive and they had all been together over the weekend. It would take up to three days to get results, he was told.
I made preparations for probably working from home. I wore my cloth face mask anytime I was around other people. I kept interaction with others as short as possible. Essentially, I worked in my office by myself as much as possible. I made arrangements to attend meetings virtually and to cover my responsibilities for other organizations that couldn't be managed virtually. I changed the outgoing message on my voicemail to say that I may not be able to check voice messages for some time; please send an e-mail instead.
Friday night we got the news that my son's test was positive. Saturday morning we were contacted by public health: a 14 day quarantine for all members of the household from the time of last contact. My COVID positive son will be living in his room to be completely isolated for 10 days from the onset of symptoms. We don't see or talk to him. We bring meals to his room and pick up empty plates. I clean our shared bathroom at least twice a day. I wear a mask to check on him from the hallway in my own house.
And then I think about all the people I've been in contact with: my extended family, my co-workers, my customers, my friends. To whom may I have unknowingly transferred this virus?
This, friends, is why we wear masks. If I am infected and asymptomatic, it reduces the probability of infecting others. It is not comfortable to wear a mask. Sometimes it feels like I have to work harder to breathe. It definitely traps heat around my face which makes my face flush and my whole body feel warmer on these hot and humid summer days. But my discomfort is nothing compared to sparing someone else from getting this virus.
So on this fifth day of quarantine, I implore you to follow the recommended guidelines all the time.
Stay home as much as you can.
If you must go out, wear a mask.
 -Michelle Andersen
Submission by Hana Holtz
I'm not going to sugar coat it. There is little good that came out of this quarantine for me. 
All I could–and can–really do is sit and watch the plans I have looked forward to for four years get shaken up time and time again while the media and government sends mixed messages about the virus and possible re-openings. One day, Governor Kim Reynolds makes it sound like we are on the downhill slide. However, at her next press conference, she closes more businesses and pushes the start of school back two more weeks. One day, we are told we will be able to play in that last band concert or take the tennis court for a shortened season, and not a week later that is all taken away. 
Are you kidding me? 
If it wasn't going to work out, just say so. 
The worst part about it is I feel gross for thinking of myself during these times. I am healthy. My family is healthy. There are so many people out there who have it worse, and yet I am sad and frustrated because I have been jipped out of so many things. In my opinion, that is the worst thing: watching a person who only wants the best for others become more focused on what could have–should have–been.
There are so many uncontrollables in this situation. One person can't control another's actions. They don't have any say in who stays six feet apart at the grocery store. We don't know if the virus will slow as the weather gets warmer. I think we all will fare better once we realize the uncontrollables are what is running this situation. 
What I think affected me the most was the false hope that was generated with the possibility of going back to school and getting to take part in those final activities my senior year. If everyone had recognized the uncontrollables in the situation–including myself–I think the fall wouldn't have been as hard. It wouldn't have hurt as much.
                                                                                      -Hana Holtz
Submission by Molly McFadden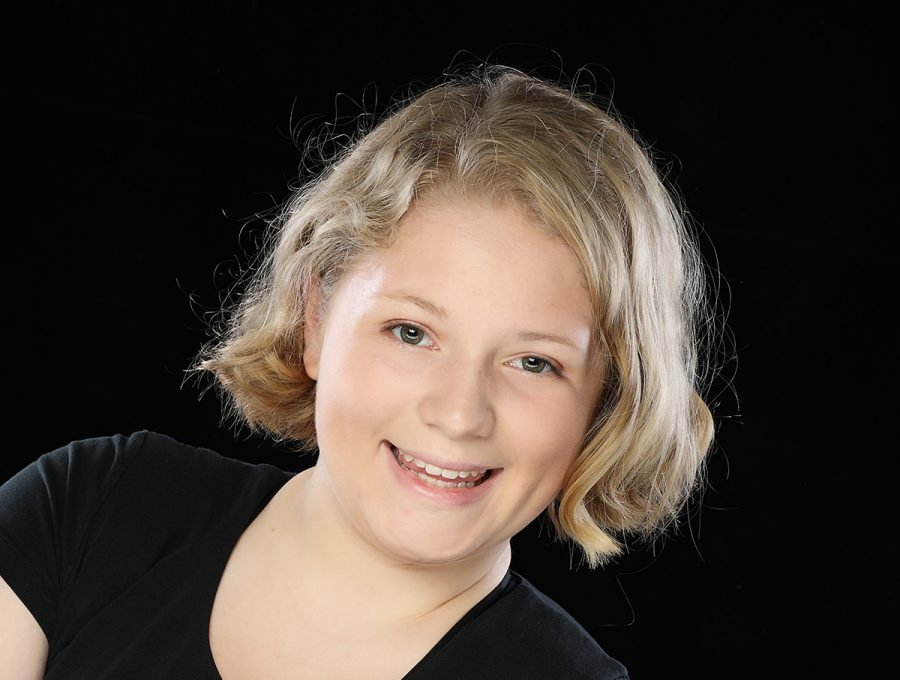 (Photo by Ann Kirchner)
The last eight weeks have been a rollercoaster. Towards the beginning I was very motivated. I felt gifted with time and was excited to be able to accomplish things that had gotten pushed to the side earlier in the year. This feeling of motivation was great, but it didn't last more then three weeks. By about the fourth week, I was over it. I wanted to see my friends, I wanted to go to Florida, I wanted to play tennis, and I wanted to go to church. 
On April 17 I sat by my computer and waited for Governor Reynolds to say it. I knew that realistically there was no way that we were going to be able to go back to school, but I wanted it so bad. I didn't think it was fair that my friends didn't get a proper graduation or a senior prom.
This period of social isolation has brought me a new kind of busyness. I no longer have a packed schedule filled with extracurriculars and homework. Instead, I've found myself teaching my brothers how to read and subtract because they no longer have an end to their school year.
I have been overwhelmed with emotions during this quarantine. I've been scared, confused, and angry, but I've also had this overwhelming sense of hope. Hope that this will all come to an end and everything will return to normal. I have hope that through all of this chaos, God has and will continue to be there.
The last two months have been some of the worst, but I can't help but be joyful for the things I have been gifted with. I'm no longer taking anything for granted and I'm definitely not going another day without thanking God for all the incredible people and opportunities around me.
                                                     -Molly McFadden